ZeoSure Product Information
Look Inside ZeoSure
In order to maximize the detox benefits, excavated clinoptilolite is activated by a proprietary technology developed by ZeoSure researchers, which THEN pioneered the processes of purification, micronization down to .5 microns, and thermal treatment of the Clinoptilolite…making ZeoSure your ideal detox choice!
Product Name: ZeoSure – Naturally Activated Clinoptilolite
Intended Use: One capsule (600 mg) twice daily taken orally
Active Mineral Ingredient: Clinoptilolite Zeolite (Potassium-Calcium-Sodium-Alumina Silicate)
Cation Exchange Capacity: Very High (2.65-2.8 meq/g)
Manufactured: In a FDA registered and GMP Certified facility.
MINED & PACKAGED IN THE

U

.

S

.

A

.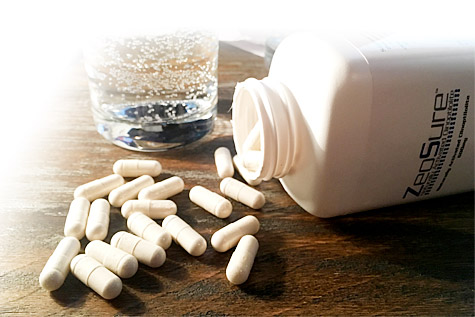 Why clinoptilolite?
Clinoptilolite, the form of zeolite used in ZeoSure, is a clay-like mineral that appears from clear to dark grey in nature. Its texture is multifaceted and very light, leading to its name – "slanted feather stone" in ancient Greek.
Clinoptilolite molecules feature a negative electric charge and large cavities between its crystals, allowing for attraction and storage of large positively-charged molecules such as common forms of lead, arsenic, mercury, cadmium and radioactive isotopes.
For ideal effects, micronized clinoptilolite is taken as a daily supplement in an easy-to-use capsule form. ZeoSure supplements offer this mode from a reliable natural source of clinoptilolite that has been processed responsibly for optimum health.
What's In ZeoSure?
Naturally Activated Clinoptilolite